If you haven't known, tomorrow, March 10 is Mario Day. Why? Well.. someone way back in the day said that MAR10 looks like Mario, thus making March 10th Mario's unofficial birthday. Because, well, fictional characters need special days too.
In honor of Mario Day, Google did something pretty neat!
"To celebrate our favorite mustachioed plumber-turned-racer on his special day—MAR10 Day—we've collaborated with the team at Nintendo to let Mario accompany you on all of your driving adventures on Google Maps this week," Google's press release states.
So, how do you make the magic work? Simply make sure you are downloaded to the most recently version on either iOS or Android and start your navigation. Where it says Start, you'll see a little yellow ?. Simple click on it to hit the road — or in Mario's slang "Let's-a-go!"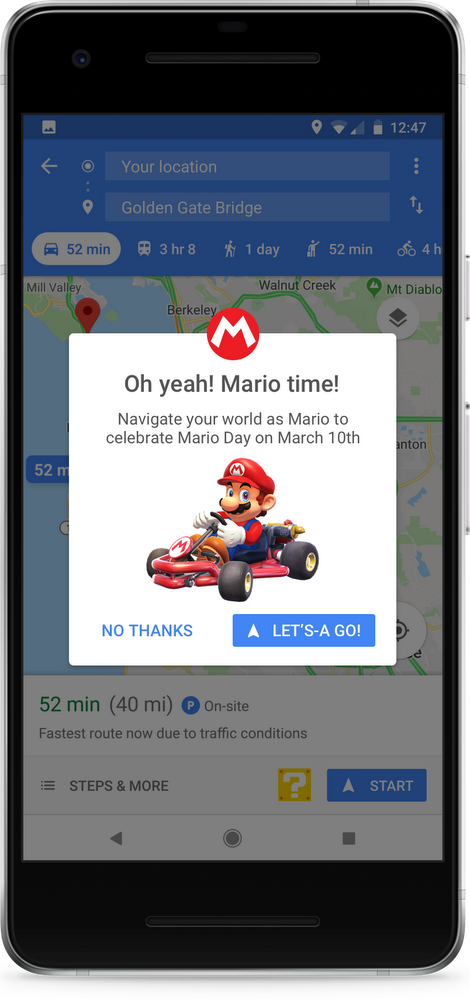 Once started, you'll see that the little boring navigation arrow you're used to has changed into Mario! Google wants all drivers to remember to practice safe driving, and that they don't encourage throwing bananas or red shells at other drivers in real life. Unless you want a police chase of course.
This little nifty addition will be available starting today and will remain active for a week.
Let's-a go!
Thanks Google for such a fun and interactive tool! 🙂